Prague is situated on the banks of the Vltava River which flows from south to north and turns eastward near the centre of the old city. Steep hills crowned by a castle and parks dominate the west bank of the river while the east bank is the spot where the old fuses with the new centre of the city.
Let yourself plunge right into the historic nucleus of the city, equally crossing over the two sides of the river. To the west, there is a bulk of buildings on HradCany Hill facing the city. The most impressive building is a 12th-century fortified palace known as the HradCany, or Hrad (Castle), a current residence of the president of the Czech Republic. Don´t miss the 14th century St. Vitus Cathedral (completed only six centuries later, in 1929). Further on, below the HradCany there lies the Mala Strana (Little Quarter), famous for its narrow streets such as Zlata Ulicka (Gold Lane), former centre of Prague´s goldsmiths.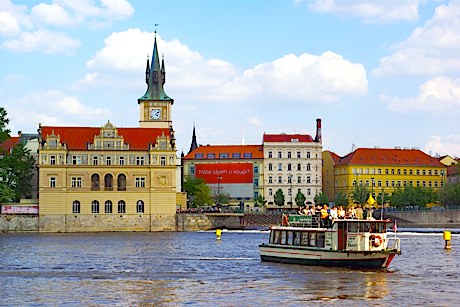 Prague view, Czech Republic
The Mala Strana is connected to the Stare Mesto (Old Town) by the 1357 Karluv Most (Charles Bridge), outlined by a line of statues and has towers with gates at each end. At the centre of the Stare Mesto there is the Old Town Square where the 14th-century Tyn Church stands out with its outsized clock that shows both the time and the seasons.
If you walk southeast of the Stare Mesto, you will most surely find the Na Prikope (On the Moat), a broad street, Prague´s main shopping avenue. The centre of modern Prague is Wenceslas Square, former horse market, and currently a rather long boulevard flanked by fashionable hotels, stores, and restaurants. Southwards and eastwards Wenceslas Square there are several broad lanes intermingling with parks and residential districts. Northwards there also are some large parks, a stadium, and a sports hall.
Prague is not a city of contrasts alone and one wouldn´t be wrong to assume that, undeniably, there is a puff of multiculturalism floating all around its streets: every step of the way there are Czechs, Slovaks, Hungarians, and Germans learning to adjust to and adopt each other´s customs and traditions, hence, each other´s cultural diversity. Cultural diversity seems to have reached its arms and gone beyond human relationships, leaving its imprint on architecture and cuisine. There is an abundance of restaurants and cafes waiting for you to step in and take a sip of a good steaming coffee that has been sprinkled with something of the local multicultural colour.
A centre of transportation routes either from west to east, or from north to south, Prague lies on the main route from Berlin to Vienna. Prague's International Airport is the headquarters of Czech Airlines (CSA), so that now would be a good time for you to leave behind any doubts you had about travelling here, and start making a decision on whether to travel by air or by land.
Go to top